Expo-Box ready-to-use exhibition stands

Easy and affordable Ready-To-Use exhibition stands at best prices. Our world leading modular exhibition stands are the most innovative on the market, as we can present a range from the most affordable, price-leader stand system TubeLite, to AluLite – the king of flexibel building and ranging further to the LiteTruss exhibition and event stands. All of our sophisticated Expo Stands are made with Scandinavian traditions, design, functionality and quality standards. TubeLite and AluLite are produced in Finland by TETRIX and the LiteTruss systems are produced by X-Module in Denmark.
Like playing with building blocks you can easily plan and construct your own portable exhibition booth. Using your exhibition stand, erecting it, and moving the stand from 
event to event is as easy as planning it in the first hand. All our Expo Stands flat packs, are supricingly light-weight and use minimal storage space. This makes them easy to store and gives them mobility.
The TETRIX SuperFlatⓇ graphic canvases can be rolled has a top level print resolution and travels in a 150cm tube with the stand. All systems can be made double sided and the printed messages are easy and cheap to update. And the very best thing is the functionality. No tools or prior knowledge are needed. You can change the appearance of your stand from event to event – make it smaller, or bigger, or change form from event to event.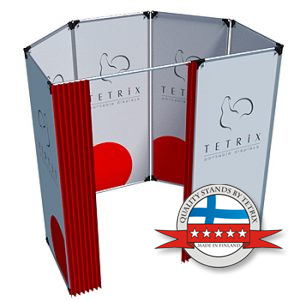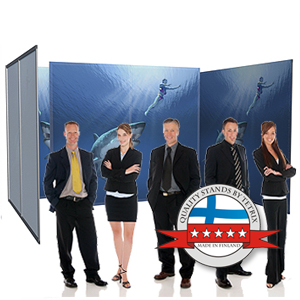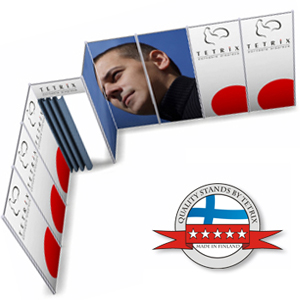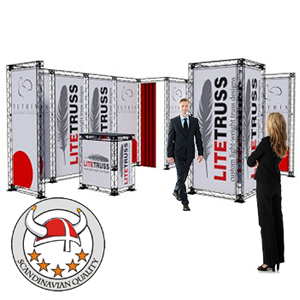 Choose between our complete range of Ready-To-Go exhibition stands. Our Expo Stands presented her from the lowest price to the more complex structures. And should you need a special solution for your exhibition, event, shop-fitting or other purposes we can make you a free 3D drawing and help you to get the most of your TETRIX Expo Stand.
TubeLite Module ExpoStand
The cheapest exhibition stand
-Everyone can look good for a low cost
Size: 250 cm high, 100 or 150cm wide frames
Price per module: 100x250cm frame 6 000 | 150x250cm frame 7 990 (Print included)
The price of TubeLite stands is so good, it makes rental stands a waste of money. From the very first steps the target for the TubeLite stand was to offer our customers a solution so affordable that anyone can look as a serious exhibitor without a big budget.
The system is built from light-weight aluminum tubes and each corner is held together 
with composite plastic parts of Finnish origin, that can withstand the harshest Scandinavian weather conditions. The finished exhibition stand wall consists of 100 or 150 cm wide modules that are 250cm high. These can be linked together forming any shape you wish. The TubeLite Exhibition stands, like all of our stands can be made double sided and the size can be varied.
SlimFrame Expo Stand
Double sided fabric frames
-Can be used as photo walls or expo stands
Size: 250 cm high, 100 or 150cm wide frames
Price per module: 100x250cm frame 10 900 | 150x250cm frame 13 500 (Print included)
SlimFrame Modular are an easy to build frame system that offers double sided printing. The system is build out of 16mm slim picture frames that are connected to each other to form full exhibition stands. The printed canvases are separate for each frame and can easily be made double sided. SlimFrame Aluminums are made by TETRIX in Finland and enjoy high quality standards.
The printed canvas is fastened to the frame with VELCRO Ⓡ Brand Hook and Loop fasteners and guarantees a long life and easy to use canvas change. As each frame has the printed picture "wall papered" to the frame, and the frames are tightly fitted together 
 the graphics give an impression of being seamless and continuing for the length of the exhibition wall – double sided if wanted.
SlimFrame exhibition stands are build out of 100 or 150cm wide modules and 248cm high pics. The total height with feet is 250cm. When transported you can choose to take apart the whole construction so that it can be transported in a normal car, yet you can also leave the frame in bigger parts for faster assembly. The canvases roll together and the whole system takes up minimal room when stored.
AluLite Module Expo Stand
The most flexible exhibition stand
-Systems used by professional exhibition builders
Size: 250 cm high, 100 or 150cm wide frames
Price per module: 100x250cm frame 13 990 | 150x250cm frame 16 600 (Print included)
AluLite Modular offers the most versatile and flexible exhibition stand solutions. We made the very same systems that professionals use, available to everyone. This way you can construct your own Expo Stand with the same quality and accuracy as anyone. The raw aluminum is extruded and adonizated in Sweden, while all the profiles and solutions are produced by TETRIX in Finland, to meet the highest qualitty standards.
The sophisticated aluminum system allows you to build in any shape and form. The main exhibition stand  modules consist of 94cm or 144cm wide picture modules that
can be attached 360 degrees around each upright pole, to farm continues exhibition walls. It is very easy to change the form of the stand from event to event and you can buy extra parts and to adjust the stand to your varying needs.
AluLite stands are easy and fun to construct and requires no prior knowledge.The whole system packs small and fits into any car during transport. The canvases are attached with original VELCRO ® hook and loop tape (Made in Spain) which makes the attachment and changing of canvases very easy and rapid.
LiteTruss Modular Exhibition Stands
Modern look and easy as children's toys
-A truss modular system that fits everywhere
Size: 250 cm high, 80, 90 or 140cm wide graphics
Price: 90cm frame XX.XX | 100cm frame XX.XX | 150cm frame
(Print included)
The LiteTruss exhitibition stand systems has a feel of Rock & Roll and the ease of LEGO®. Actually this truss system is made by X-Module in Denmark, not far from where the famous building blocks for children are made – so the Scandinavian quality and product functionality is found also in the genetics of TrussLite. To plan your own stand; you start the stand design with a starter pole and then add as many C-frames (90, 100 or 150cm wide) required for total length of your exhibition wall.
In a LiteTruss stand the stylish frame is a part of the overall message of your company. The truss system, reminding of those found e.g. concert stages, are as such 
eye-catchers that will make people stop and look at your graphics. The modules consists of 80, 90 and 140cm graphic withs and the systems are 250cm high. Yet we also offer custom made models, towers, shop stands etc.
The trusses are a composite of plastic and aluminum. Very rigid but still surprisingly light-weight. No tools are needed to assemble the modular exhibition booths and can be done by a single person in matter of minutes. Besides modular exhibition stands we can also offer other solutions, especially suited for shops and events. Call us for a free 3D drawing.